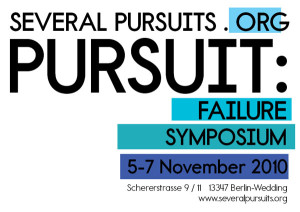 SEVERAL PURSUITS is a Berlin based curatorial practice formed by Valeska Bührer and Pauline Hanson.
SEVERAL PURSUITS provides a platform for cultural international exchange in the visual arts both online and in changing locations in Berlin. All pursuits are based on dialogue with artists, curators, thinkers and tinkerers and the exchange and joint development of ideas, aiming to provide a counterpoint to institutional, educational or market-driven debates on contemporary art rooted in practice / the everyday practice of life.
PURSUIT: FAILURE
FAILURE is essential to all greatness, not merely in providing its contrast but as an essential part of the processes of growing, experimenting, learning and living. We cherish the ever failing C. Chaplin or Homer S. for their Sisyphusian predicaments, we quote Beckett, film in obsolete media and yet at the same time hardly any artist dares to embrace the option of artistic practice as failure itself.
For its first project SEVERAL PURSUITS gathered positions and reflections to explore meaning and possible potential of failure in contemporary visual art.
After our CALL FOR REJECTS as a first stage of the project in 2009, many artists have followed the call and submitted images and accounts of works of art that they have rejected themselves yet hung onto. See the full archive of REJECTS.
As a second part of the project a more experimental symposium format took place in Berlin 5-7 November 2010. See the SYMPOSIUM page for more information.